Your profile will be sent to your customers when you connect with them. It's very important to complete it to show that you're qualified and you're the Best Pro for them. For more tips about Profile, you may refer to Polish Your Profile. After reading the Pro tips about setting up the profile, let's follow the step for Web Users and App Users
Basic Info: Profile name, Yeas of Experience, Profile Description, Profile Picture
Business Info: Working Hours, No.of Employee, Upload Business Registration Certificate, Certifications
Services: Edit Service types, Travel Preference
Gallery: Upload Photos or Video
More Info: Add Keywords to boost exposure, Success Cases, Questions & Answer
Change the Display name to customers: Click Here
1. Login to your HelloToby Pro Account
3. Click " Profiles " from the drop-down list
4. Select the profile you want to edit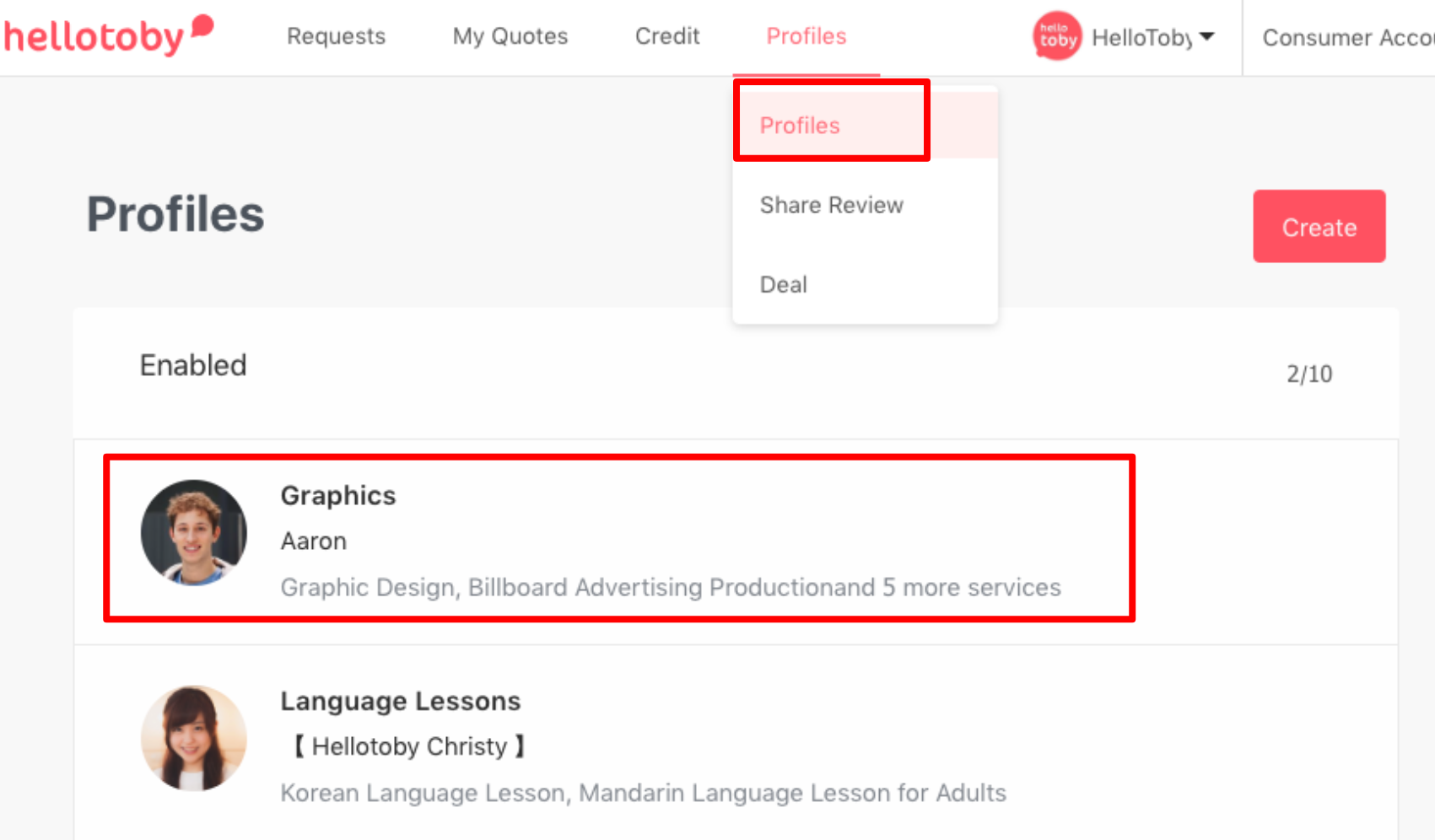 5. Choose the categories you want to update( Basic Info, Business Info, Servies, Gallery and More Info)
6. After updated, click " Save Changes "
7. Click " Profile Preview " to see how it looks like
Basic Info:
Edit: Profile name, Yeas of Experience, Profile Description, Profile Picture
Business Info:
Edit: Working Hours, No.of Employee, Upload Business Registration Certificate, Certifications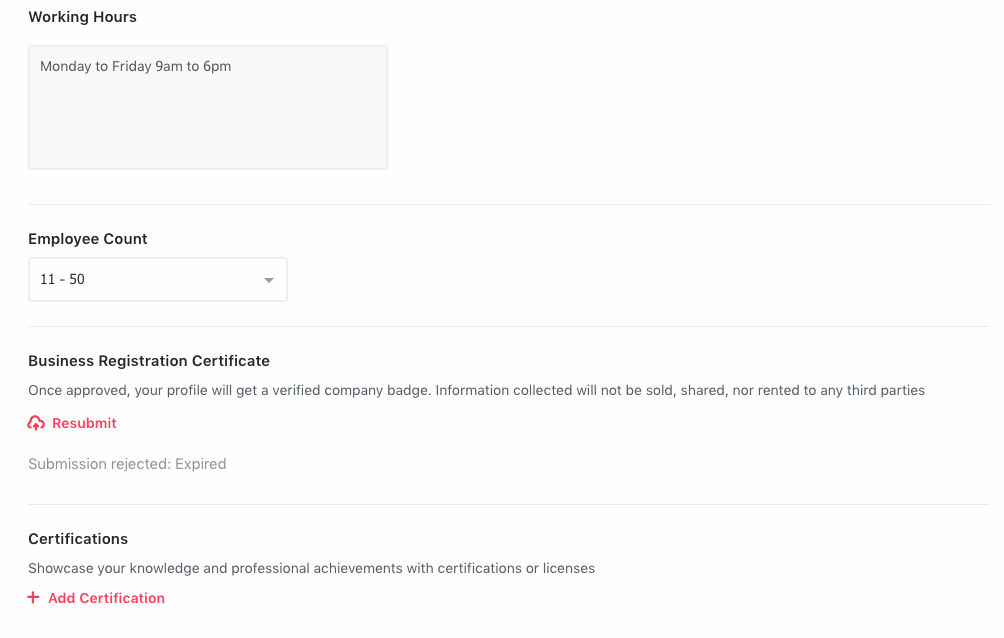 Services:
Edit: Service types, Travel Preference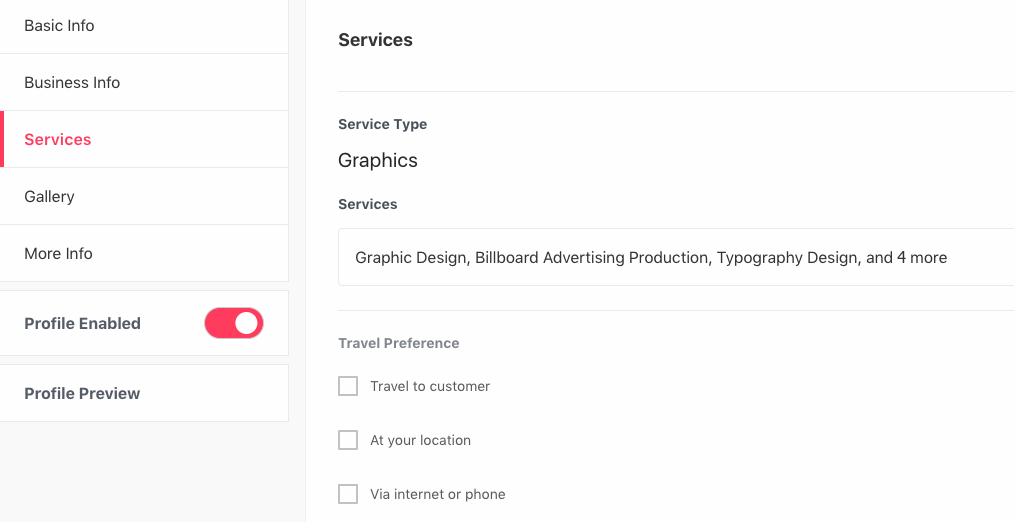 Gallery:
Edit: Upload Photos or Video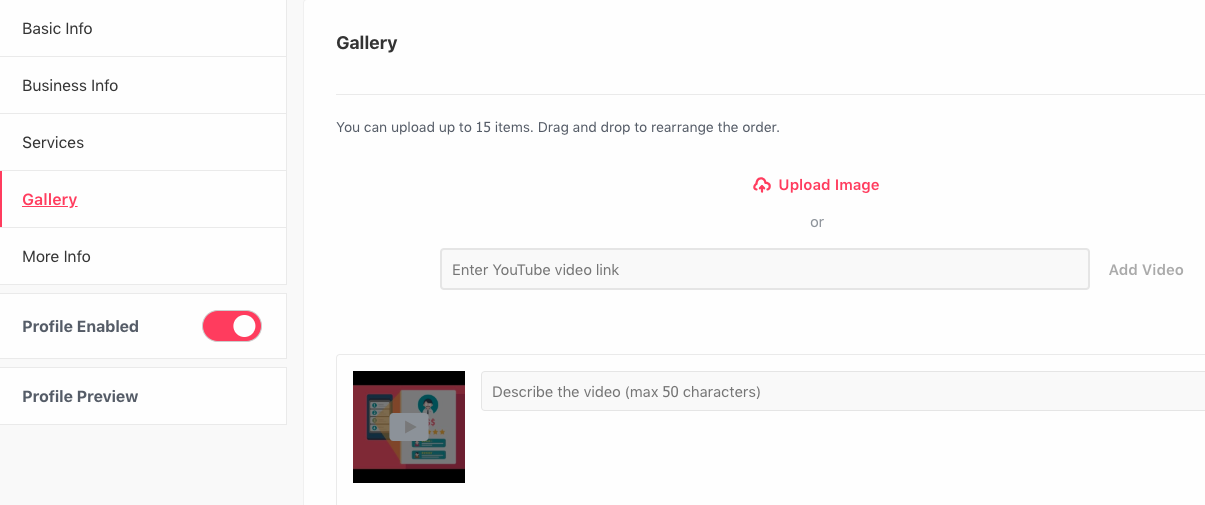 More Info:
Edit:Add Keywords to boost exposure, Success Cases, Questions & Answer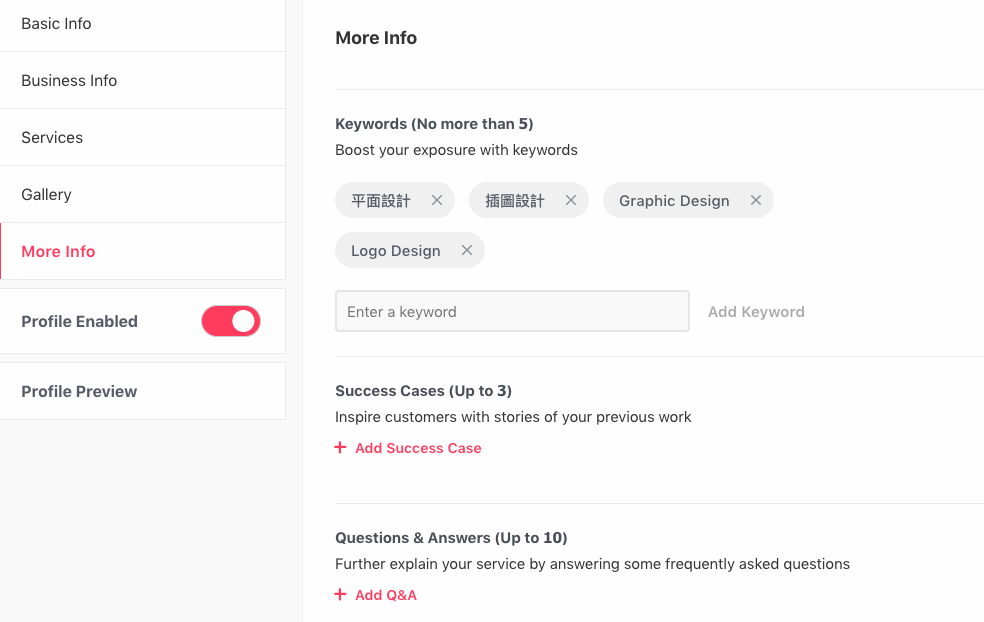 Steps:
1. Login to the App and switch to Pro account
2. Click " Profile "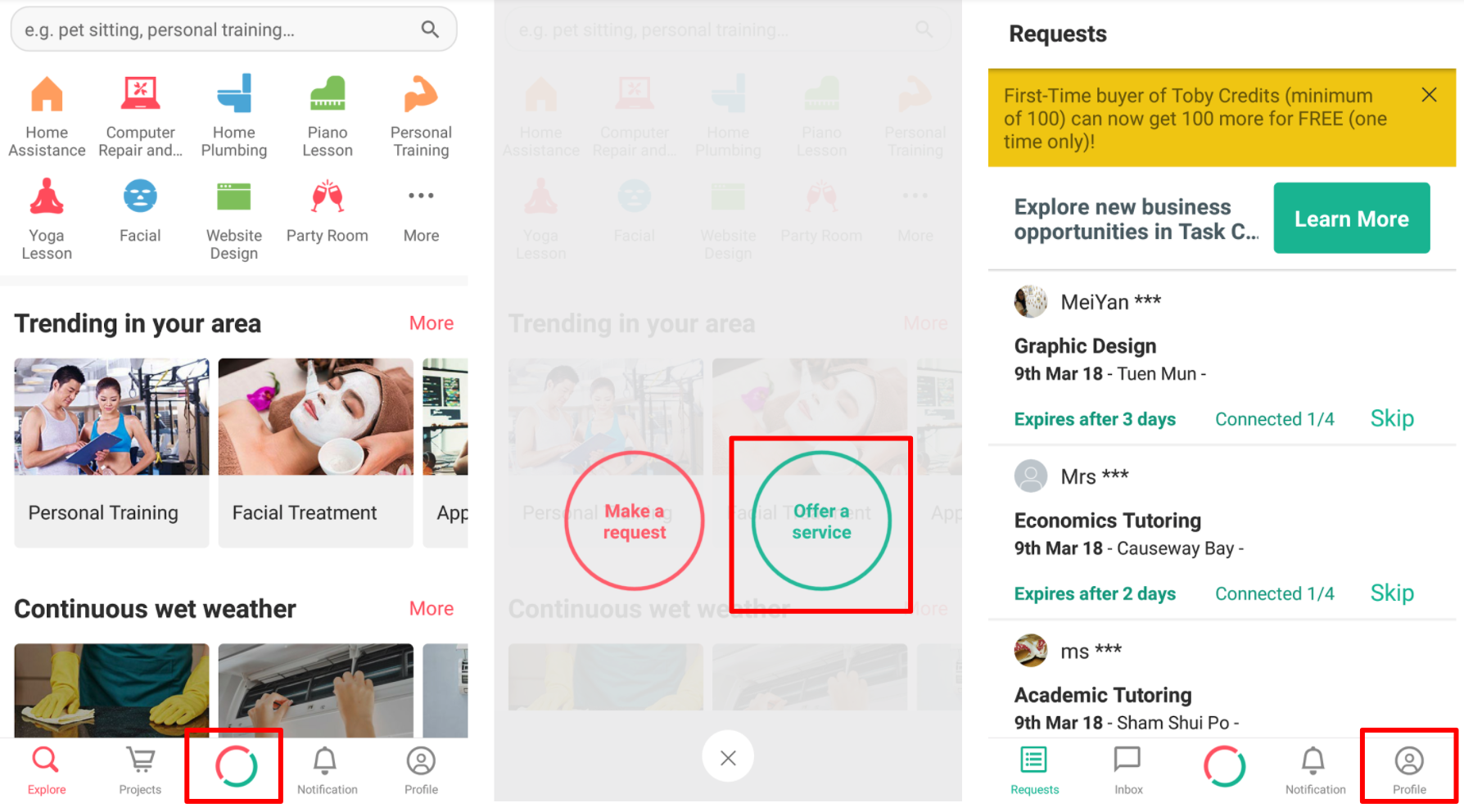 3. Click " Manage Profiles " and select the profile you would like to update
4. Click " Edit " in the top right corner
5. Click " Edit " again for each Category to update it ( Eg. Self Introduction, Services, Photos and company info etc)
6. Click " Save " in the top right corner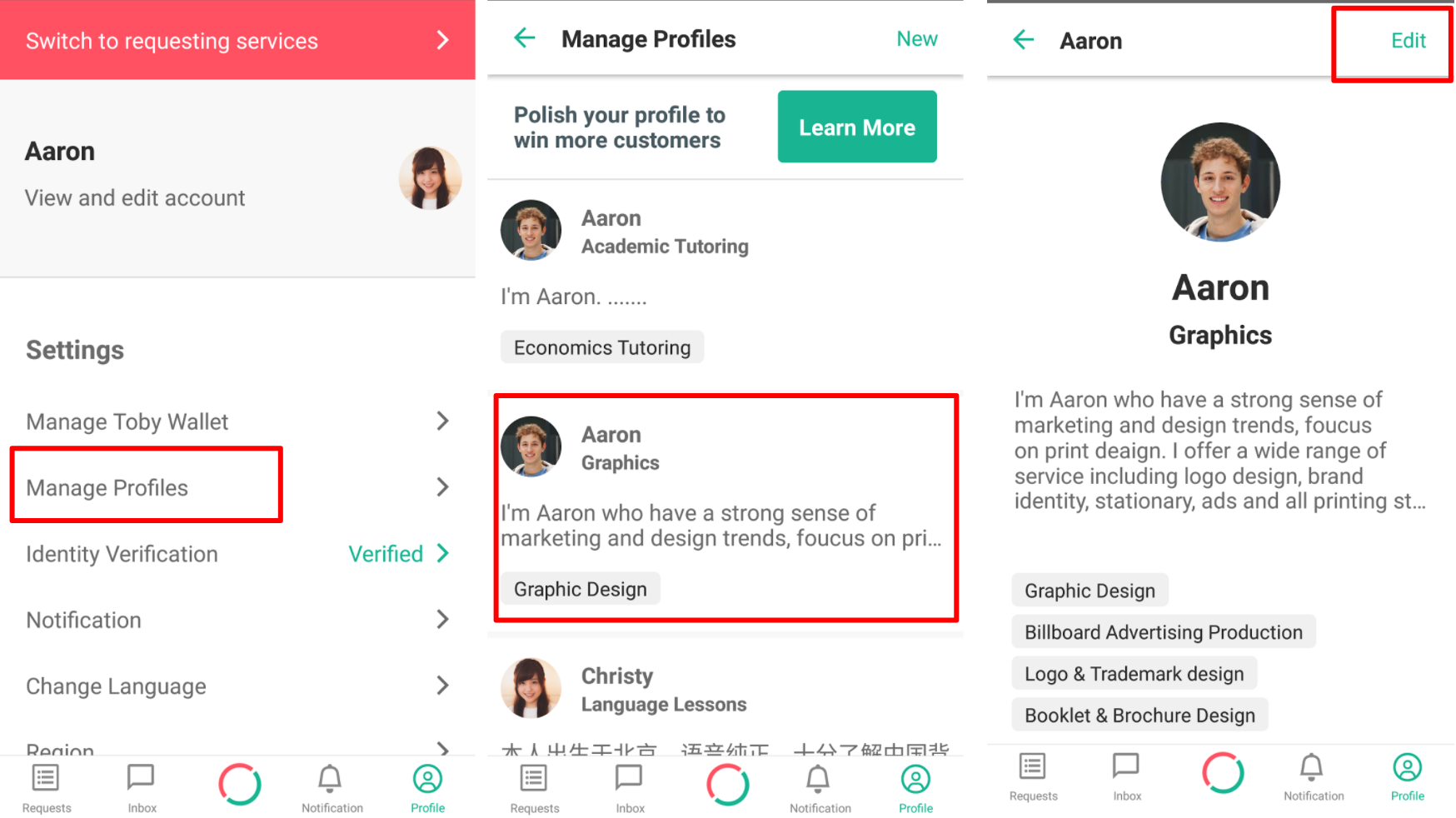 * If you want to add " Success Cases " and " Questions & Answers " sections, please do it on the Website version.